Get organised for your first semester at UQ.
Be prepared in your first year at UQ
R U Ready?
Take the R U Ready Survey to learn how Student Services can help you while you are at UQ.
Get ready for UQ
Join our pre-semester program and get prepared academically, orientationally and socially in a fun supportive environment.
Get involved at UQ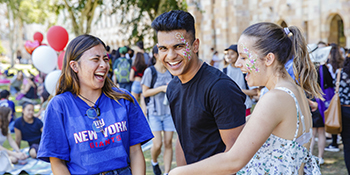 Be social at UQ
Get the most out of life at UQ - meet new people, do fun things and have good times with UQ Mates events, groups & activities. Or conquer your first weeks of uni with a little help from the O' to 4 program
Seeking experience?
Find out what volunteering and leadership opportunities are available for you.
Other helpful resources for First-years